Columbia alum and diplomat V. K. Wellington Koo's legacy highlighted in a talk by Guangyao Jin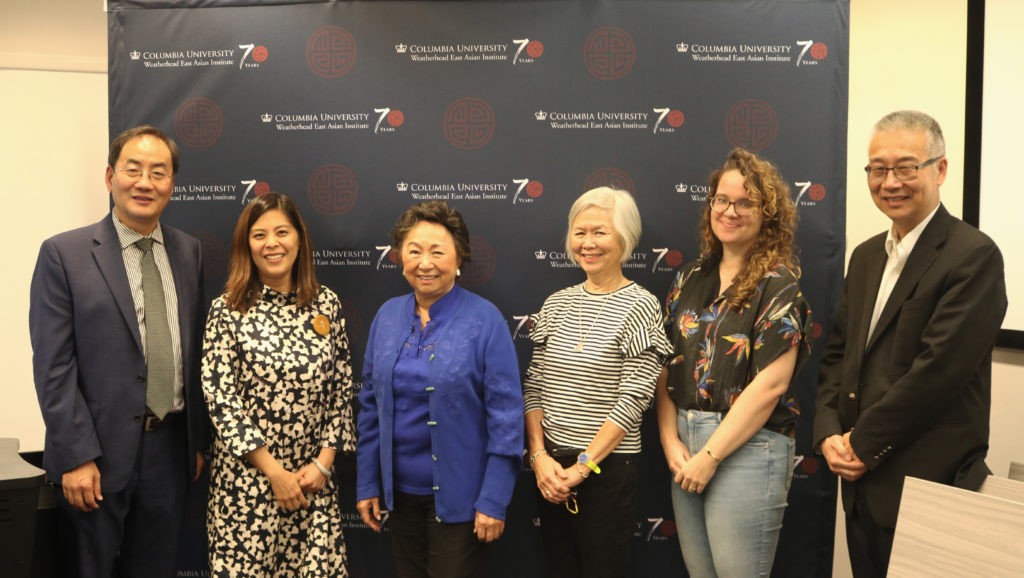 On October 1, 2019, the Weatherhead East Asian Institute hosted Professor Guangyao Jin, Department of History, and director of the International Center for Studies of Chinese Civilization at Fudan University, for a talk entitled, "The Role of US-educated Students in China's United States Policy during the Republican Period: A Case Study of Wellington Koo." Moderated by WEAI Director Eugenia Lean, Jin's talk focused on V. K. Wellington Koo (CC 1908, 1909, 1912) as an eminent example of a US-educated student who shaped China's foreign policy-making during the Republican era.
Studying in the United States at Columbia, Koo earned his BA in liberal arts in 1908, his MA in political science in 1909 and PhD in 1912. During his tenure at Columbia, Koo distinguished himself as a brilliant student who managed to participate in a remarkable number of extracurricular activities. He served as editor-in-chief of the Columbia Spectator, won the Columbia-Cornell Debating Medal, and was a member of both the track team and and Delta Epsilon Rho.
Koo went on to a remarkable diplomatic career and is regarded as the founder of the modern Chinese foreign service. In his remarks, Jin highlighted that Koo played a major role in expanding China's relationships with the West. Jin noted that Koo was instrumental in formulating and advocating for the diplomatic strategy that saw China allying with the United States against Japan. 
Koo was China's delegate to the Paris peace conference of 1919, and served as acting prime minister from 1926 to 1927. Koo held the posts of ambassador to France, Great Britain, and, for ten years, the United States—he was the youngest ranking diplomat to come to the United States. Koo is also credited with China's participation in founding the United Nations, serving as his country's signatory of the UN charter. 
None of this would have been possible without the encouragement and support of his mentor and advisor, Columbia Law professor John Bassett Moore. It was while studying at Columbia for his PhD in 1912 that Koo received an invitation to return to China to serve the new president. He turned down the offer because he wanted to finish his thesis and had only completed the first section. Professor Moore, knowing of Koo's goal to help the new republic and judging his preliminary work as sufficiently comprehensive, accepted the section as his entire PhD thesis and urged Koo to return to China. 
Koo's legacy continues to live on at Columbia. The Weatherhead East Asian Institute awards a fellowship bearing his name to doctoral students in social science whose research is focused on East Asia, especially modern Chinese history or political science. Columbia's Rare Book and Manuscript Library houses the heavily used collection of Koo's papers, and Koo was a prolific contributor to Columbia's Chinese Oral History project. In a major project initiated by the Koo family in collaboration with the Chinese Academy of Social Sciences, the Koo archive was digitized. The papers are now available in China at the Shanghai Library, Fudan University, and the Chinese Academy of Social Sciences.  
Jin's talk was affiliated with a larger series of events, including a concert, "Wellington Koo the Diplomat—A Life in Song," at Carnegie Hall on Monday, September 30. The concert combined images from Koo's life with performances by world-famous musicians including soprano Ying Huang, baritone Shenyang, and Luoyong Wang as narrator, with a world premiere chamber piece by composer Peng-Peng Gong.