April 9 Event: "The Future of the US-Japan Alliance"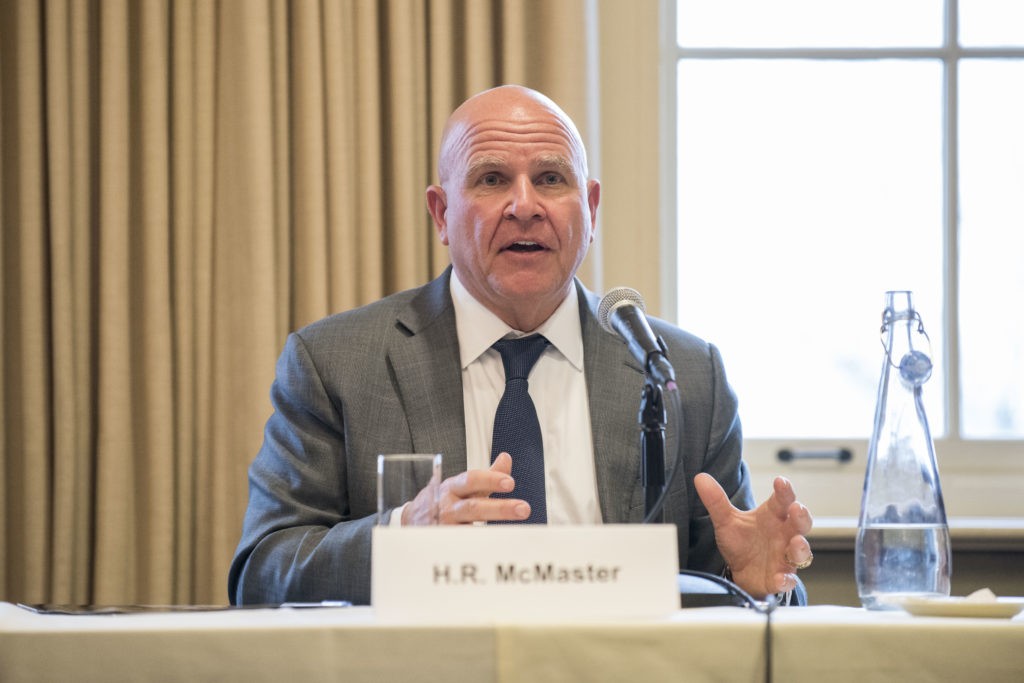 The Future of the US-Japan Alliance: 
Advancing the Vision of a Free and Open Indo-Pacific
Featuring H.R. McMaster
Fouad and Michelle Ajami Senior Fellow, Hoover Institution
Bernard and Susan Liautaud Visiting Fellow, Freeman Spogli Institute, Stanford University
Former 26th Assistant to the President for National Security Affairs
On April 9, Lieutenant General H.R. McMaster, senior fellow at the Hoover Institution and visiting fellow at Stanford University, delivered an address to a gathering of distinguished Columbia University faculty, students, and alumni about US strategy toward the Indo-Pacific region.
The event offered attendees a rare opportunity to interact with a former National Security Advisor who played a direct role in guiding the policies of the current US administration.
Addressing a packed room, General McMaster noted three major obstacles to advancing the vision of a free and open Indo-Pacific and highlighted the importance of maintaining a strong US-Japan alliance in achieving that vision. In particular, he listed the manifestation of great power competition with countries like China and Russia; the threats emanating from North Korea's nuclear arsenal, both to security and the global nonproliferation regime; and the disruptive nature of dual-use technologies such as artificial intelligence, quantum computing, hypersonic weapons and biogenetics, as cause for an even closer relationship between Washington and Tokyo.
In his remarks, McMaster also presented a number of initiatives to bolster the alliance, starting with the improvement of American and Japanese capabilities "to compete effectively and deter conflict." He advocated for the continued development of complementary capabilities to broaden the focus of the alliance beyond the defense of Japan to the promotion of peace and security across the Indo-Pacific region.
McMaster stressed the need for diplomatic and economic cooperation between the two countries, along with like-minded nations, particularly through the enforcement of sanctions against North Korea and in responding to Chinese Communist Party espionage activities such as the forced transfer of technology and intellectual property. He also encouraged joint research and development to "maintain competitive military and economic advantages."
"Today's challenges demand not fear on our part and not anxiety, but confidence in our individual nations," McMaster said, adding that Japan, the US, and like-minded partners should band together with confidence in their shared principles of liberal democracy. But he expressed concern about the diplomatic rift between Japan and South Korea over historical issues and hoped the current chill in relations would not last.
While he made considerable mention of the "Chinese Communist Party's use of co-option and coercion to establish areas of primacy in the Indo-Pacific region," and spent a large portion of his address detailing what he described as "Draconian and Orwellian" measures being implemented by Chinese leadership, McMaster also said the US and allies "should recognize that China is not monolithic" and recommended that like-minded countries engage in "dialogue with Chinese leaders, organizations, and entities about the threats that we see associated with the Communist Party's policies."
Ahead of McMaster's address, Dean Merit Janow of the School of International and Public Affairs delivered opening remarks, underscoring Columbia University's "deep and enduring" commitment to the study of Japan and the General's distinct perspective and knowledge on the topic of US-Japan relations. Richard Betts, Professor and Director of the Saltzman Institute of War and Peace Studies, also made remarks, introducing McMaster's influential book on Vietnam policy-making titled "Dereliction of Duty," and noting the General's reputation for "speaking truth to power." The question and answer segment was moderated by Takako Hikotani, Gerald L. Curtis Associate Professor of Modern Japanese Politics and Foreign Policy.
Event details here.